Discover more from China Ate My Jeans
Seeking, Finding, Writing About Products Made in the USA
50 in 50: California...Wine, Almonds, Hollywood Movies...
First, a rant...
My beloved California is home to an embarrassment of riches. Beautiful climate, abundant agriculture and, of course, legions of bright, inventive, entrepreneurial souls who create the products that make our lives easier, fashionable; more entertaining. Apple iPhones, iPads and laptops, Gap clothing, Hollywood movies: all have deep California roots.
California's coastal cities include some of the wealthiest per-capita areas in the United States. In 2010, there were more than 663,000 millionaires in the state, more than in any other state in the nation. And yet--here riches and embarrassment again intertwine--the Golden State also has extreme poverty. The Central Valley, for example, has been characterized as one of the most economically depressed regions in the United States, on par with the region of Appalachia. According to Forbes, California has 12 percent of the country's population and one-third of its welfare recipients. Why? This shouldn't be.
Gap, Inc. employs at least a million garment workers in China and elsewhere, but none here in California (or in the USA). Founded in San Francisco, Gap, Inc.'s corporate offices remain there. While the brand's labels boast "Designed in California," everything's actually made anywhere-but-here. In 2014 the company began manufacturing in Myanmar, where apparel workers earn $3 per day. Workers pleaded with factory owners for a raise, to $3.25 a day. They were turned down.
And so I'm California dreamin' if I think Gap, a publicly-traded company, would consider manufacturing in the good ol' expensive USA. But still, let's imagine that Gap, Inc.--and another former S.F. manufacturer, Levi Strauss & Co.--decided to build at least a couple of factories here, hiring workers in the most impoverished areas of California. Yes, there would likely be more automation and therefore fewer actual garment workers compared to those employed in third-world countries by these corporations now. But some jobs are better than none. And why not build the bots here and train workers to repair them? Learn to thrive in this automated world. Ditto for Apple, Inc. (headquartered in Burlingame, CA) which slaps "Designed in California" on its products but employs 1.6 million workers in China and recently committed to more investment in that country.
Okay, I'll stop. For now.
CAMJ'S Top 5 California-Made Products:
#5) GRGICH HILLS ESTATE CHARDONNAY
Napa Valley's Miljenko "Mike"Grgich is legendary in the wine world. The "King of Chardonnay" won the prestigious Judgment of Paris 40 years ago with his 1973 Chateau Montelena. To this day, Grgich Hills Estate Chardonnay is consistently delicious. The Grgich family continues to own and operate the winery. Through the years Mike Grgich has resisted pressures to grow the winery, preferring to concentrate on making the best wine possible. Last year, at age 93, the King of Chardonnay wrote his memoir, A Glass Full of Miracles.
"This book is full of incredible stories about the Croatian-born Grgich, the youngest of 11 children," writes Mary Orlin in The Mercury News. "By age 3, he was helping his family make wine. Grgich survived ordeals during World War II and communist rule, eventually making his way to what his college wine professor called 'paradise' in California, to fulfill his winemaking dreams."
Immigrant stories behind California-made products draw me in and keep me humble. I'm pouring a glass of Grgich Hills Estate Chardonnay tonight. Cheers, Mike.
On the other hand, California's Blue Diamond Almond Growers like expansion. I say good for them (especially now that the drought has eased up). From SLATE: High-value commodities like almonds are a crucial part of America's ability to continue growing its agricultural exports. California now produces close to 80 percent of the world's almonds, around 70 percent of which it exports. It's the state's largest food-crop export by a wide margin, surpassing not only other tree nuts like walnuts and pistachios, but also heavy hitters like dairy products and wine. In the last decade alone, crop yields in California have more than doubled, going from 700 million pounds in 2000 to 1.7 billion pounds last year. The growth of disposable income in emerging markets offers the best potential for increasing the world's ranks of almond consumers. While the global GDP is expected to grow 3.3 percent by 2019, China and India are projected to have growth rates of 8 percent and 7.5 percent, respectively. Not coincidentally, these represent two of the most heavily targeted and fastest-growing markets for almonds.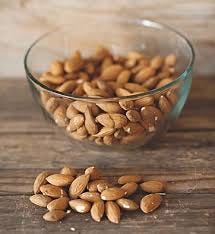 Nice to know we can export, too. Almonds and Grgich Chardonnay. Nice combo.
#3) KAREN KANE
Based in Southern California's industrial town of Vernon, Karen Kane makes beautiful, reasonably priced women's apparel. The brand's philosophy, as stated on its website, is "clothing that lasts longer than a single season and can far outlive any trend it represents." In 2011, I interviewed founder Karen Kane's son, Michael, marketing director and an integral part of his family's company. At the time, the company had decided to return a percentage of its manufacturing to Vernon from China. Since then, the company has stuck with its with USA-made commitment. I applaud them. Some of the items are 100 percent USA-made, others are USA-made using imported fabrics. But all of Karen Kane's USA-made collection is cut, sewn and finished under California's exemplary working and environmental conditions.
#2) GREEN TOYS
"Millennial parents buy toys like they buy food," Green Toys founder Robert von Goeben, 52, said in a Reuters interview. "They want to know what's in it, the country of origin. That's a sea change from day when I bought a toy because it was wacky and fun."
Made from California's recycled plastic milk and yogurt cartons, Green Toys are imaginative, colorful, sturdy and every bit as fun as the toys of von Goeben's youth. In 2011, when I first wrote about Green Toys, its products were somewhat scarce other than online. Happy to report they now seem to be everywhere: online, at specialty toy stores, and at Pottery Barn and Whole Foods Market. Best of all, these reasonably-priced toys are made in San Leandro, California, in compliance with our state's strict environmental regulations. Kids, parents and grandparents love them.
Green Toys
"When a product is designed as well as manufactured here," von Goeben enthusiastically explained during our chat six years ago, "the results have a ripple economic effect. For every one manufacturing job created, five to six ancillary jobs are also created. Everything from lab testing to packaging to the drivers needed to get the product out." Couldn't have said it better myself.
#1) HOLLYWOOD MOVIES
Saved the best for last. If not for the Hollywood film industry my grandfather, Sol Polito, wouldn't have found his life's passion. In 1912, as a young Sicilian immigrant operating a nickelodeon projector in New York, he caught the movie-making bug. He was 20, with little education. "I wanted to create the pictures, rather than just run them," he once told an interviewer. "So I began to cast around to find a way to get into the production end of the business..." He would eventually work as a director of photography for Warner Bros. Studios, making over 150 feature films, receiving three Academy Award nominations for Outstanding Cinematography.
Sol Polito with Olivia de Havilland, "The Adventures of Robin Hood" 1937-38
When my dad told his father that he, too, wanted to be a cinematographer, he was encouraged to choose a more stable profession. Hollywood's a tough, fickle business. Become an aeronautics engineer, Dad was advised. And so he did. But within a few years he wanted out. He longed for an environment where his engineering know-how and his innate creativity could find expression. Working his way up the industry ladder he eventually earned the director of photography designation, filming numerous highly acclaimed television series and feature films, receiving an Emmy nomination (for My Sweet Charlie), and later teaching at the University of Southern California's School of Cinematic Arts.
Gene Polito with Director / Author Michael Crichton, "Westworld," 1973
I mention Dad and Pop (as we called my grandfather) and their unique accomplishments not to boast (well, maybe a little) but to stress the importance of holding onto our country's most precious industries. In addition to keeping countless actors and film crews gainfully employed, Hollywood's film industry provides thousands upon thousands of ancillary jobs throughout southern California and beyond.
Yet today La La Land's film industry sits on the precipice of frightening change as, step by step, China takes over. Chinese billionaire Wang Jianlin--former soldier in the People's Liberation Army--has made no secret of his plans to control the Big Six Hollywood studios. "My goal is to buy Hollywood companies," he told Reuters in Beijing just last summer, "and bring their technology and capability to China."
Thus far Wang's Dalian Wanda Group has snapped up AMC Theatres, Legendary Entertainment and Dick Clark Productions. Wang has courted Hollywood's major filmmakers, flying in Chinese acrobats and magicians to entertain them; promising them unprecedented incentives if they'll make movies at his massive Qingdao Movie Metropolis in eastern China. Meanwhile, a few years ago (while we were sleeping) Dreamworks Animation entered into a partnership with China Media Capital. Oriental DreamWorks now fully produces animation films in China. Nice.
Writing last year in the Los Angeles Times, Robert Daly, director of the Kissinger Institute on China and the United States at the Wilson Center in Washington, warned: "...China's film industry is run by the Chinese Communist Party...American filmmakers have already made common cause with Chinese censors in pursuit of profit. Writing scripts to satisfy the rulers of the People's Republic doesn't simply weaken the films the U.S. exports to China, it limits what plays at the multiplex on American soil, and it diminishes our understanding of the greatest geostrategic challenge America will face over the coming decades: the rise of China."
I don't know about you, but the thought of China buying up Hollywood and Hollywood--normally a staunch defender of free speech and human rights--bowing to China's censors makes me feel like this:
Yul Brenner "Westworld," 1973
Looking forward to tonight's Oscars. Will some brave A-lister go out on a limb and condemn China's Hollywood strategy? Will anyone speak up for California's film industry, for an uncensored Hollywood, for America's freedom of expression? I wonder.
Enjoy your weekend! Next up: Colorado.