Discover more from China Ate My Jeans
Seeking, Finding, Writing About Products Made in the USA
50 in 50: Georgia on My Mind. Green Jackets, Blue Jeans, Pink Plastic Shoes.
Family Day at the Dublin Woolen Mill, 1954 (Source: Pieces of...Our Past) My Father loved the 'Woolen Mill', it was his life. He especially loved the people he worked with...it was people working together, and living in a community that supported them, and they supported the community...He was happy there. --Lawrence Head, Reader Comment, December 15, 2015, Pieces of...Our Past
***
Last Sunday--as magnolias bloomed and the smell of spring in the south filled the air--the Masters tournament wrapped up at Augusta National Golf Club in Georgia. Congratulations to Sergio Garcia of Spain. I know zip about golf but (in the name of Georgian research) did watch for a few minutes. Anyone else see Matt Kuchar shoot a hole-in-one? How'd he do that? "If only golf could be this exciting all the time," I told Don. An avid golfer, he'd been listening to the commentary through the open back patio door as he gardened. The roar of the Augusta crowd drew him inside, his hands covered in potting soil. "So, what does the winner get?" I asked. He answered without looking away from the TV. "Couple million bucks...and the green jacket." The green jacket. Of course. Augusta National's official green jacket. The grass-green jacket with the gold buttons and trademark flag-through-Georgia patch sewn onto its front pocket. Apparently there are three ways to obtain one of the highly-coveted, closely-guarded green jackets: (1) become a member of the private, invitation-only Augusta National Golf Club (2) win the Masters Tournament or (3) spot a vintage, 1950s-era jacket in a Goodwill store in Toronto, as happened to an unnamed Canadian journalist back in 1994.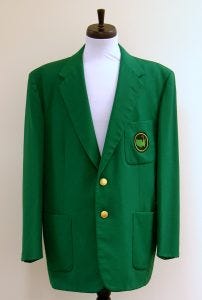 Thrift Store Green Jacket
Source: Golf Digest A few months later Dominic Pedler--Masters enthusiast, writer for British Golf International--somehow tracked down the anonymous Canadian purchaser and negotiated a deal. For the next 23 years, Pedler kept the jacket tucked away, dusting it off once a year to wear while watching the Masters and eating his wife's peach cobbler. Then last Saturday--yes, the day before the championship round--Dominic Pedler sold his beloved Thrift Store Green Jacket at auction. It fetched a handsome $139,349. A few years earlier, in 2013, another vintage green jacket (circa 1949) belonging to Horton Smith--the first-ever winner of the Masters--sold at auction for a whopping $682,229.45. But what's the rest of the story (nod to Paul Harvey) behind those jackets? For folks living in central Georgia's Laurens County, in a town called Dublin, those vintage green jackets represent a special time in their history; a time when textile manufacturing thrived in their community and provided middle-class jobs. Although the green jackets have always been assembled or "made" in Ohio, the fabric for those jackets--at least from 1949 through 2007--was produced in the woolen mills of Dublin. In his blog Pieces of...Our Past, Dublin attorney Scott B. Thompson Sr. brings history to life: "...in 1947, bulldozers began clearing the site for the location of one of the most modern woolen mills in America. For six decades, the men and women of J.P. Stevens and Co. and later Forstmann and Co. went to work...these folks, our folks, produced the finest textile material in the world...By 1960, the Dublin Woolen Mills were ranked as the third most productive mills in the textile industry...The champions of the Master Golf Tournament donned green jackets made from Stevens' green cloth. Major league baseball players played in hats made in the mill...It was more than just a mill. It was a family..." Searching online I came across the 2007 story of Geraldine Johnson, who began working in the mill in 1984 and rose through the ranks. Her job as a final inspector helped her put all five of her children through school and some through college, she told the Courier Herald as news broke that the mill would be shut down. "This company has been a blessing to all of us," she said. Ms. Johnson and the other laid-off employees apparently understood: NAFTA happened. China happened. "With free trade and all the apparel business moving to Asia and China," Yves Coderre, chief operating officer of the mill told the Herald, "...the employees did their best but it comes to a point where it's not working and you've gotta move on." The mill stood vacant for many years, a ghostly reminder of better times. I called the Laurens County Library, spoke with someone named Terry in research. What ultimately happened to the woolen mill, I wondered. Did someone buy it? "Ma'am, they have torn it down." I asked if there were any other mills in Dublin. "No, ma'am, I don't believe so. They have all gone overseas." We shared a moment; a sad beat. "I'm so sorry," I said. "Well, thank you, ma'am," Terry said. "You have a beautiful day." Librarian Terry was right about the demise of textile manufacturing in Dublin. By 2011, according to the Northwest Georgia News, the region within a 45-mile radius of Dublin had lost 7,500 textile jobs within a seven-year span. "Once-Busy Georgia Industrial Town, Now A Dead Zone," says the story headline. The total number of available workers in Laurens County and the surrounding counties was estimated to be 80,000. Textile mills matter... Two thriving companies have successfully bucked the manufacturing odds in Georgia. Let's cheer them on: Okabashi Flip-Flops and Oka-B Oka-B recyclable footwear made in Buford, Georgia A reader alerted me to Okabashi flip-flops a few years ago. Oka-what? I'd never heard of them. I bought a pair at my local Walgreen's and never looked back. Okabashi flip-flops are affordable (under $20), comfy and have nice arch support. Okabashi's sister company, Oka-B (see photo above) makes slightly higher-priced shoes ($45 and under) in a variety of fun styles and colors. Made of a proprietary technology called Microplast, Okabashi and Oka-B shoes have a therapeutic, ergonomic footbed enhanced with massage beads. They're also 100% recyclable (simply pop them in the mail and return to the company). Founded by Bahman Irvani--a Cambridge-educated businessman who, with his family, immigrated to the USA in the 1980s--Okabashi Brands Inc. remains committed to manufacturing in Buford, Georgia. The company's been manufacturing there for the past 33 years. Diamond Gusset Jeans Diamond Gusset Jeans If you look carefully at the photo above, you'll notice a diamond pattern sewn into the crotch of this guy's jeans. David Hall, founder of Diamond Gusset Jeans, says he came up with the unique design idea after noticing a similar feature in martial arts uniforms that allows for more comfort and freedom of movement. After working at Levi-Strauss and Lee in a corporate capacity Hall decided to strike out on his own, launching his company in 1987. His goal? Keep his brand 100 percent USA-made. To that end he recently opened a new 27,000 square foot manufacturing plant in Blue Ridge, Georgia. "While most companies have gone offshore, merged, or have been totally eliminated," he recently wrote, "we've managed to grow." Hall's philosophy couldn't be clearer: "What's the point in running a company if you can't be proud of how you operate? It's a great feeling to walk into our production facility and see all the happy smiles and feel a sense of purpose knowing we are part of the solution..." Diamond Gusset Jeans are available online (and in Bon Aqua, TN). Up next: Hawaii!