Discover more from China Ate My Jeans
Seeking, Finding, Writing About Products Made in the USA
50 in 50: Hawaii: Aloha, Let's Chat
"Hawaii is not a state of mind but a state of grace." --Paul Theroux A-list travel writer Paul Theroux--author of a dozen-plus travel books and over 28 novels and story collections--likely wouldn't be thrilled to see his thoughts about Hawaii used atop this blog post. "I loathe blogs when I look at them," he once told an interviewer for The Atlantic. "Blogs look to me illiterate, they look hasty, like someone babbling. To me writing is a considered act. It's something which is a great labor of thought and consideration. A blog doesn't seem to have any literary merit at all. It's a chatty account of things that have happened to that particular person." Ouch. Not that "literary merit" is what I'm going for here, but ouch anyway. Babbling? Do I babble? Chatty? Me? And by the way, can you believe the blossoms on this tree? Took a pic on my walk along the Iron Horse Trail. Don't you love spring? I do. Babbling on about spring And look at the banana egg white pancake I made this morning. Is it just me or does this look like one of the Hawaiian islands? My sister Joni says it does and I value her opinion. Recipe: mash one banana, add a bit of cinnamon and 3 whipped egg whites, blend, pour batter onto hot non-stick skillet. Top with fresh blueberries. Makes 2-3 pancakes. Yum. Getting chatty about pancakes Big Island...or pancake...? Discuss. As luck and hasty research would have it Theroux holds the key to a quick understanding of the Aloha State. Resistance is futile. (Star Trek? Really?) For the past two decades the author has lived and worked in a house he built along Oahu's north shore. There, I'm guessing, he drinks Kona coffee, nibbles macadamia nuts, writes in solitude and avoids blogs. With no small dose of irony I now turn to him for help. In a 2016 article he wrote for W magazine called The Spirit of Aloha, Mr. Theroux discusses the place he has the good fortune to call home. Below, 10 quotes from his beautifully crafted piece, which I'll call...
A Great Labor of Thought and Consideration: Theroux on His Hawaii
"Hawaii...is not one place but many, an archipelago sitting in the ocean, 2,300 miles from the nearest land mass. We have no neighbors and are subject to minimal influences. We are a cluster of high volcanic islands, some of them dramatic and uninhabited, many with towns or villages, a few heavily urbanized, some of them disfigured and tormented by developers."

"Many races live harmoniously here, the murder rate is low, and we have the best weather on earth."

"Locals always say what a relief it is to arrive home in the islands, from anywhere. 'Lucky we live in Hawaii' is a mantra. I agree."

"At heart, Hawaii retains the oldfangled attitudes of its plantation history, with the predictable divisions and grievances. But the spirit of 'aloha'--an island agreement to be civil--is a unifying factor."

"I love [Hawaii] for its easygoing folks, the house I built in the middle of nowhere, its marine sunshine, its beaches, its informality, and its isolation."

"Hawaii's remoteness has produced its own ways of behaving, oddities of culture, language, and food. Consider the floppy aloha shirt and its eye-blinding colors..."

"Hawaii had a monarchy, so plenty of people claim to have titles, but the real royalty are the princes and princesses of surfing and hula."

"The social unit of Hawaii is the 'ohana'--the family..."

"...the family luau is a popular event, a baby luau (held when a child turns 1) is a significant milestone, and many concerts and festivals are held outside. The outdoor party is greatly valued for its freedom of movement."

"After traveling the world, and being a resident for years in a number of countries, I came to Hawaii and fell in love...my love affair with Hawaii has had its ups and downs over the past 27 years, always reminding me of Marcel Proust's dictum in Time Regained: 'The only true paradise is a paradise we have lost.'"
That's how it's done, people. Not with banana pancake babble but a modernist mix of sun, cynicism and deep thoughts: floppy aloha shirts, urbanized, disfigured villages and yes, Proust. Onward to crass consumerism, to the stuff that American dreams are made of. ( Maltese Falcon? Carly Simon? Have you learned nothing?) Without any further ado, let's chat about notable products from our country's 50th state. Blue Horse Kona Coffee: The Kona coffee belt stretches for 20 miles, with only 2 miles width through the districts of North and South Kona on the Big Island of Hawaii.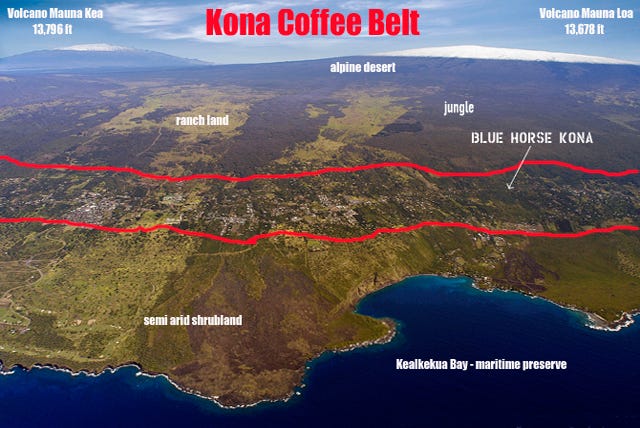 Kona Coffee Belt (Source: Blue Horse Kona Coffee)
Blue Horse Kona Coffee Logo
"Ideal coffee growing conditions produce a very unique, highly aromatic, mellow, yet limited annual crop of the famous 'kona typica' beans," say the folks at Blue Horse Kona Coffee. "Small family farms line the two roads winding along the fertile slopes of the active volcanoes Hualalai and Mauna Kea." More than 630 Kona coffee farms, most of them fewer than 5 acres in size, thrive in the region. Due to its unique climate and harvesting requirements (cherries must be handpicked), genuine Kona coffee commands some of the highest-prices in the world. But buyer beware. Real Kona coffee should be labeled single origin, single estate. "When the deal sounds too good to be true or it tastes like generic coffee," warns Blue Horse, "it most likely means that those beans haven't seen Hawaii at all." Purchase Blue Horse Kona Coffee (with free shipping) on its website. Also available on Amazon.com.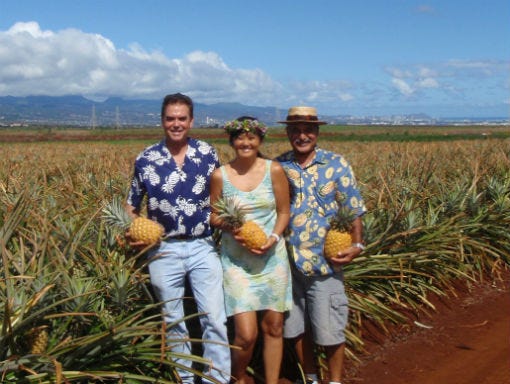 Craig Bowden and Lisa Yamaguchi Bowden (left, center) and Tom Menezes, Co-Founders, Hawaiian Crown Pineapples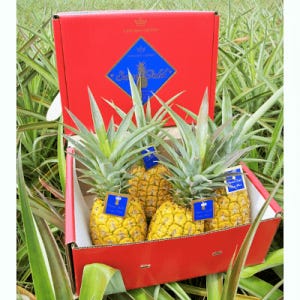 Sweet Gold Pineapple Minis 4-Pack (Source: Hawaiian Crown) Hawaiian Crown Pineapples: In the 1960's Hawaii was a global leader in pineapple production, supplying 80 percent of the world's canned pineapple. Although the pineapple industry has grown over 400 percent since then, Hawaii is not even among the top 10 producers internationally. In addition, as outsourcing and mass farming methods have taken over the industry, the quality of the fruit has diminished. Enter Craig and Lisa Bowden, co-owners (along with Craig's lifelong friend, Tom Menezes) of Hawaiian Crown Sweet Gold Pineapples. The only remaining family-owned and operated commercial pineapple farm in Hawaii, this small company has succeeded in the aloha state where produce giants have failed. "We started collecting, selecting, and breeding over 20 years ago and, in recent years, came up with an excellent line of proprietary low-acid, super-sweet pineapple," the founders explain on the company's website. "Our goal is to allow consumers to experience the true flavor of field ripe pineapple, the way pineapple is supposed to taste." The brand also produces its own dried fruits, coffee, macadamia nuts and chocolates, all using Hawaiian ingredients. If you're in Waikiki, be sure to visit the cafe and store. Many products, including fresh pineapple gift packs, are available for purchase online.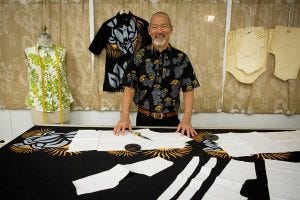 Sig Zane /Founder /Sig Zane Designs
Buttondown Aloha Shirt
(Source: Sig Zane Designs)
Sig Zane Designs: A self-taught artist, Sig (short for Sigmund) Zane is truly a treasure. "Child of Hawaii," says his website, "from the earliest years, the ocean has been his playground. Living in the rhythms of tide and wave, sun and moon, nature has defined Sig from the beginning. Surfer, fisherman, hula dancer, artist, cultural exponent - reflections of his life are found in each design..." An immersion in strict traditional teaching of dance and ritual, the understanding of the relationship with plant and culture is the foundation to his work on cloth, in writing, and in daily practices. The approach is always with honor and respect for the generations that came before and to build the platform for the future. Sig Zane and wife, Nalani Kanakaole, opened the doors to Sig Zane Designs in 1985. Their mission was to educate and share what they knew about their culture. Today their stories continue with every product and performance. Their son Kūhaʻo carries the torch further into the next generation.
"'The energy from Hawaii feeds my spirit. The elements of nature shape my character. The archaic chants of our elders guide the traditions and practices. The rhythm of the universe dictates the flow of time. The honoring and respect of the ancestors that stand at the back of me directs the action. I am a steward of their knowledge. My art is a tangible visual form of their story.'" Sig Zane Design's shirts are made in Hawaii. They can be purchased at Sig Zane's brick and mortar stores (in Hilo and Honolulu) and online.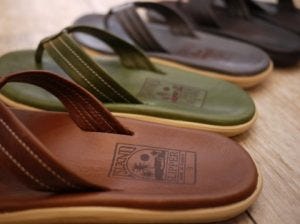 Island Slipper: Made in Hawaii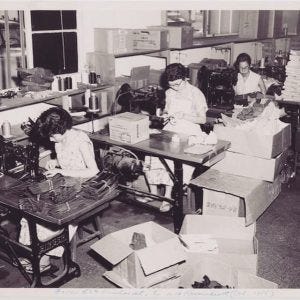 Island Slipper Pearl City Factory, 1955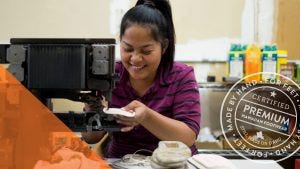 Island Slipper Factory in Oahu, 2017 (Source: Island Slipper)
Island Slipper: In Hawaii, "flip-flops" are called "slippers." Since 1946, Island Slippers has made its signature product by hand on Oahu. Due to supply shortages during WWII, the slippers' soles were originally made from old tires. Although materials are now sourced from around the world, every step of the slipper-making process happens in Island Slipper's Oahu factory in Oahu. All footwear is handmade to order "to create the most comfortable and durable slippers money can buy," says the company's website. "We also strive to use materials and production techniques that are greener and healthier. Because we care about our health, our islands, and our Earth." Purchase these Hawaiian originals online at Island Slipper and Amazon. But Wait, What About...Alas, too little time, so much more to say...about Hawaiian Host (chocolate covered macadamia nuts), founded in 1960 by Mamoru and Aiko Takitani; a company that to this day continues to provide scholarships to nearly every school in Hawaii...and about Big Island Candies, founded in 1977 by Allan Ikawa and his wife Irma...and oh, Keith and Janet Sung's Honolulu Cookie Company, founded in 1998, featuring delicious pineapple-shaped shortbread cookies...the pineapple represents Hawaiian hospitality, but you all know that, right? What have I forgotten? Please share your Hawaiian favorites. A heartfelt mahalo to our 50th state's amazing entrepreneurs--and Paul Theroux, too--and to all you for taking the time to read about them! Next up: Idaho...I know...I'm a couple of states behind. But I shall take a deep breath, embrace the spirit of aloha; smell the pink and white roses beginning to bloom on the arbor over our back gate. Hope all of you are well, enjoying the longer, sunnier days.