Discover more from China Ate My Jeans
Seeking, Finding, Writing About Products Made in the USA
Adore La Vie: Children's Clothing Made in the USA
Amanda Boyd, talented San Francisco-based children's clothing designer, exudes energy. She's passionate about her family, her work and--lucky for us--her country. It's easy to see why she chose to call her clothing line "Adore La Vie." Translation: Love Life. This upbeat message truly reflects the philosophy of the entrepreneur behind the brand. On Adore La Vie's website, Amanda describes her boutique clothing (sizes 6 mths-10 yrs; from $22 to $72) as "playful, colorful, adventuresome," and adds this:
Adore La Vie is all designed and produced in San Francisco, so keep on shopping our Made in the USA brand!
Hurray for Adore La Vie!
This past February I attended Adore La Vie's Spring-Summer 2012 Trunk Show in SF. Oh my, such beautifully made clothes, such gorgeous colors (coral, brown, lavender), such fun, safari-inspired girls' dresses, tops and skirts, and for the boys, great looking collared shirts, t-shirts and khaki pants. I bought a couple of things for my grandson (who is now almost one!) including this brightly-colored t-shirt with a hand-blocked stamp of the Golden Gate Bridge ($22):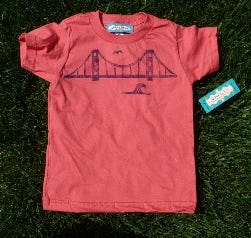 I caught up with Amanda by phone today. We chatted about many things, including domestic manufacturing. Here is part of our conversation:
Q: Let's start with fabrics. Often I hear from company owners that it's tough to find affordable domestic fabrics anymore. Is that true? Where do you find your fabrics? Are they imported?
A: Twice a year I go to the wholesale fabric mart in Los Angeles. The foreign fabrics are all located downstairs. You have to order large quantities--like 5,000 yards--to purchase the fabrics from overseas. I only need 50-200 yards. But even as my business grows, I plan to use fabrics Made in the USA. So I head upstairs, look through the USA fabrics, get inspired. And for my buttons and zippers, I'll order them from suppliers that make them in South San Francisco.
Q: What's next?
A: I'll have the samples made. All my sewing is done at a place on Mission Street in San Francisco. The woman who runs it immigrated here from China. She has about 20 people working for her full time. I'm really pleased with the quality, and it's also important to me that the working conditions are good. Her prices are higher, but she treats her workers well.
Q: Then what?
A: Daniel's Garment Service in Oakland makes all my patterns. So I'm working with Daniel and my sewer to get the samples just right. The sewer might make design suggestions that don't change the overall look but can save on the cost. Eventually Daniel grades--meaning sizes--marks, cuts using this laser cutter, and bundles the pieces. Then I get them to Mission for sewing.
Q: How do you sell your line?
A: I now have three reps who sell to 27 stores all over the country, and we're always adding new customers. It's exciting.
Q: Do buyers care whether or not your products are Made in the USA?
A: They used to not care. In the last two years there's been a definite shift. They'll say "We're only looking for USA goods."
Q: What happens if your business hits the big time? Will you take production overseas?
A: No. I'm confident that the Mission Street sewers will easily be able to handle larger orders. They can do 60,000 pieces for Anthropologie, so I know they could do the same for me. I'll never compete with companies as large as Old Navy or Gymboree. Adore La Vie is a smaller, boutique label.
Q: This all sounds like an incredible amount of work. Why did you decide to run your own company?
A: My Dad had his own business, an office products company. He worked really hard. I grew up watching that. I went with him to work all the time. Being a business owner seems really familiar. But I had to work my way up to where I am now. I worked at Spiegel for a few years as a tech designer, and then for Gymboree as a creative designer. In Chicago, before I relocated to the Bay Area, I ran a t-shirt business called Strip-Tees. I'd use old vintage images from film strips across the chest and put sayings like "blonde bombshell" on back. I did that for a year or two. All these experiences helped me build my corporate career. I had a sense of how to do a business.
Q: Hate to ask this, but does Gymboree make anything here?
A: I'd say about 99 percent of their line is Made in Hong Kong. They also manufacture in Vietnam and India, I think.
Q: Do you ever see a time when apparel manufacturing would return here?
A: It would take someone big--like Old Navy or Gymboree--to do it. Even then you'd have to find space, machinery, help. But I've read some people on the east coast are trying to do it, so who knows? Maybe it could happen.
***
Thanks, Amanda Boyd, for your time, talent and commitment to making your outstanding children's clothing line in the USA.