Discover more from China Ate My Jeans
Seeking, Finding, Writing About Products Made in the USA
All of the Other Reindeer Ornaments...Were Made in China
The latest monthly U.S. trade figures were released this morning by the Department of Commerce:

The monthly U.S. international trade deficit in goods and services rose to $42.2 billion in October, up from $40.3 billion in September.

The goods deficit with China continued its rapid ascent, rising to $29.5 billion in October, up from $29.1 billion in September. This is the largest single monthly goods deficit with China in U.S. history.
Hate to start off this post with such negative news, but there you have it. The above statistics are meant to motivate us all to continue seeking and finding products Made in the USA. When you enter Target or Wal-Mart or any retail store, or when you go online to shop, think: Yes, it does help if I buy products made here.
Or grown here. Last night Don and I put on our warmest coats and headed off to our local Home Depot, on the hunt for a freshly cut Noble fir. I was on my best behavior. Only made Don drag out and prop up five trees total before giving one my seal of approval. The Oregonian tree now sits in a big bucket of California water on our driveway. We'll decorate in a few days using ornaments gathered over the decades, including the very first one (a clear glass ball with a Christmas scene suspended inside) we bought in Carmel the year we were married. Which leads me to Day Five of CAMJ's Twelve Days of Christmas, American Style: Ornaments.
While it seems like all ornaments are now made in China, one American company continues to make them here. Helzer's Creations of Santa Barbara has been in business for over 30 years. Know why the reindeer below looks so joyful? Because he was lovingly made in the USA by Art and Sarah Helzer and family.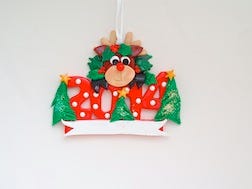 From the website:
Helzer's Creations is still a family owned and operated business. We specialize in Christmas, sport, professional, and holiday ornaments...

These handmade ornaments are made so that they can be handed down through the family. Due to the nature of this medium and process, no two pieces will ever be exactly alike, making each work truly a one-of-a-kind piece. We use only polymer clays which comes in many colors and can be hand blended to meet any need. Polymer clays are naturally waterproof, shatter resistant, and non-toxic. We even make our own special tools as we need them.

We hope you will enjoy your ornaments as much as we have enjoyed making them for the past 30 years.
I had the pleasure of meeting Art and Sarah at a local arts and crafts fair a couple of months ago. "Are they really made here?" I asked with my usual cynicism, eyeing the hundreds of colorful ornaments on display. The couple assured me that each and every ornament is handmade by their family in Santa Barbara, using American polymer clay. After I'd chosen a few ornaments for my own family members, Art took his calligraphy pen and expertly personalized each one. "I buy new ornaments every year for my kids and grandkids," one enthusiastic shopper told me as she scooped up her purchases. "Art and Sarah are the best!"
Still, I was skeptical. How can one family make so many ornaments? If you have a few minutes, visit the Helzer's blog. There you will find How We Make Ornaments. It is truly amazing to see how Art and Sarah have built an efficient, successful, inspired business. "First you have to believe in what you want to spend your life doing," they explain. "This reminder hangs in our shop and we see it every day to remind us of who and what we are." Here's the sign:
Thanks, Helzer's Creations, for living the American Dream. You've made me a believer, too.