Discover more from China Ate My Jeans
Seeking, Finding, Writing About Products Made in the USA
Be Happy, America. And Vigilant.
Shuttling among farms, mines and prison camps, he said, he was beaten...and placed in a coffinlike concrete case. He lost 75 pounds before he was released in 1979 when he was 42, three years after Mao's death.
--Harry Wu, Who Told World of Abuses in China, Dies at 79, The New York Times, April 27, 2016
_________________________________________________________
I'm chatting by phone with Vincent, the Pottery Barn representative. He's friendly and warm and has an ah-shucks twang in his voice. I ask where he's located. "Las Vegas, Nevada, ma'am," he says. "Pottery Barn's strictly U.S.-based for customer service." He giggles. I hear him and think maybe 30 Rock's Jack McBrayer / Kenneth Parcell has taken a job answering Pottery barn phones. This is America. Anything's possible.
"If you wouldn't mind helping me, Vincent, I'm trying to figure out where Pottery Barn's patriotic stuff--all the flags and swags and such--were made? I don't see country of origin information. I really try to buy products that're made in the U.S.A."
"You do? Me too! Let's see, you're talking about the Americana Collection, right? From what I'm told if it doesn't say imported it's not supposed to be, and these should be made here because they're, you know, things with flags and so that would make sense…but…can you hold on for a second? Let me check with my supervisor."
As I wait, PB's Americana Collection glows from my laptop screen. Clean, crisp and front-porch-friendly, the red, white and blue flags, swags, banners, table runners and napkins seem to say: "Pull up a chair. Have a glass of lemonade. Sing something patriotic. So what if the U.S. merchandise trade deficit with China hit a record $365,694,500,000 in 2015? Don't worry. Be happy." The Bobby McFerrin song now in my head will stay with me for the rest of the day.
Fellow-patriot Vincent returns. "Thanks for waiting, ma'am. We can't figure out where anything came from. I'm sorry. Try calling one of the stores that carries these items. Someone can check the packaging for you. Is there anything else I can help you with?"
Buh-bye, Vincent-in-Vegas. Thanks anyway.
Turns out it's all from China. Every last patriotic flag and festoon. "It shouldn't be this way," the salesperson at a bricks-and-mortar Pottery Barn store says with a sigh. "You know, someone should say something about that."
Okay, here goes: America's patriotic symbols shouldn't be used on any retail products unless those products have been 100 percent made in the U.S.A. Those products should create American jobs. They should symbolize loyalty to this country. Anyone agree with me? Does it even matter? Why not let the issue drop?
I head over to my local Starbucks. Across the street, at the Veteran's Hall, a bronze sculpture awaits those inclined to pause and think. Sometimes the families and friends of fallen soldiers gather, inches from the sculpture. They leave flowers and hand-written notes. I miss you. I love you.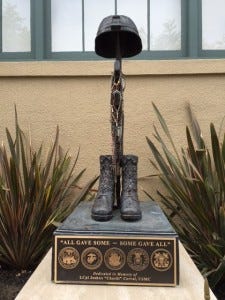 The total number of Americans killed in all U.S. wars? Over 1.1 million. All gave some. Some gave all. Freedom isn't free. On Memorial Day, to honor those who've paid the ultimate price, we go about our daily lives. We grill burgers. We toast the coming summer. We celebrate the ordinary. Did you see? Apricots and cherries are back. Watermelons will be here soon.
Driving home I sip my latte, listen to a podcast. China-expert Gordon Chang is trying to express his thoughts about yesterday's memorial in Washington, D.C. for Harry Wu. But the normally-eloquent Mr. Chang chokes up. Who was Harry Wu? Dissident. Activist. Survived 19 horrific years in Chinese labor camps. Regained his freedom, settled in the U.S., became a citizen. Then, amazingly, he "slipped back into China to gather undercover footage of the prison camps." From the Washington Post:
The footage aired on the CBS news magazine "60 Minutes" and on the BBC in the 1990s. With those reports, Mr. Wu helped draw widespread attention to Chinese practices of using forced labor to produce exports — among them wrenches and artificial flowers ultimately banned by the United States — and harvesting organs from executed prisoners. According to his research, more than 50 million prisoners passed through the system over 40 years.
From The New York Times:
Mr. Wu moved to the United States in 1985, arriving with $40 to take an unpaid post as a visiting scholar at the University of California, Berkeley, and supporting himself by working nights at a doughnut shop.
He became an American citizen in 1994 and a tireless critic of the "reform through labor" system, known by the contraction laogai (rhymes with now-guy), which he refused to let the world disregard, even as Washington and other capitals sought commercial and political ties with China. He compared laogai to the Soviet gulag and to Nazi concentration camps...
I wonder if Laura J. Alber, CEO of Williams-Sonoma, Inc. (of which Pottery Barn is a subsidiary) has an opinion about prison life for human rights activists in Communist China. Considering Ms. Alber's estimated compensation last year--$13,995,325--she should certainly be up-to-speed on all things China. If so, how can she allow any PB products to be manufactured there, let alone the red, white and blue Americana line?
Thomas Jefferson said "Eternal vigilance is the price of liberty." If you're shopping for a new American flag for Memorial Day, be vigilant. Read the label. Pottery Barn chose China. We don't have to. Instead, we can purchase flags from Annin, the oldest and largest flag manufacturers in the United States. Annin's products are made "by Americans, for Americans." Sounds good to me.
Happy Memorial Day. And rest in peace, Harry Wu.