Discover more from China Ate My Jeans
Seeking, Finding, Writing About Products Made in the USA
Breaking News: China Imports Hurt U.S. Ya Think?
For years, economists have told Americans worried that cheap Chinese imports will kill jobs that the benefits of trade with China far outweigh its costs.

New research suggests the damage to the U.S. has been deeper than these economists have supposed...

The problem is the speed at which China has surged as an exporter, overwhelming the normal process of adaptation...

The study rated every U.S. county for its manufacturers' exposure to competition from China, and found that regions most exposed to China tended not only to lose more manufacturing jobs, but also to see overall employment decline. Areas with higher exposure also had larger increases in workers receiving unemployment insurance, food stamps and disability payments.

The authors calculate that the cost to the economy from the increased government payments amounts to one- to two-thirds of the gains from trade with China. In other words, a big portion of the ways trade with China has helped the U.S.—such as by providing inexpensive Chinese goods to consumers—has been wiped out. And that estimate doesn't include any economic losses experienced by people who lost their jobs.
"Tallying the Toll of U.S.-China Trade," Wall Street Journal, September 27, 2011
*
So, it took several years and three economists from M.I.T., U.C. San Diego, and the Center for Monetary and Financial Studies in Madrid to state the obvious: Chinese imports wreak havoc across the United States. Seems to me a road trip through the Rust Belt would've been simpler.
I checked out the 54-page study, called The China Syndrome: Local Labor Market Effects of Import Competition in theUnited States. Despite academic, econ-as-science verbiage, the following conclusion seemed understandable even to me:
Hence, we estimate that rising exposure to Chinese import competition explains 33 percent of the U.S. manufacturing employment decline between 1991 and 2000, 57 percent of the decline between 2000 and 2007, and 47 percent of the decline for the full 1991 through 2007 period.
And that was back in 2007--an eternity considering how each and every day China continues to decimate American manufacturing. Just last week, General Motors moved closer to setting up shop in China. Check this out, from the New York Times (September 20, 2011):
General Motors said Tuesday that it would develop electric cars in China through a joint venture with a Chinese automaker, and would transfer battery and other electric car technology to the venture.

G.M., which is already the largest foreign maker of conventional vehicles in China, is keen to help define the emerging generation of green-energy automobiles here. And the state-controlled Chinese auto industry is just as eager for expertise from G.M., an acknowledged global leader in car manufacturing.

Tuesday's announcement was being made as the Chinese government was putting heavy pressure on foreign automakers to transfer electric car technology to joint ventures in China…

Electric cars and other "new energy vehicles," as the Chinese government calls them, are eligible for generous national and municipal subsidies in China totaling up to $19,300 a car. But for foreign makers' cars, that money is not available unless the maker has transferred important parts of the technology to a joint venture in China.
So, will G.M. do whatever it takes to qualify for the Chinese government subsidy? And will it manufacture its electric vehicles in China instead of here? And will it still call itself an American company? Of course it will.
I'm sorry. Don't mean to be a downer (and I promise to share such good news about a California manufacturer of women's clothing tomorrow). Here's a suggestion to end your day with joy: a simple Insalata Caprese, like this one daughter Stephanie and son-in-law Dennis recently made.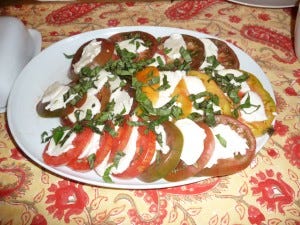 Just looking at it makes me smile and think of the basil that used to grow in my Sicilian grandmother's garden high up in the Hollywood Hills. This salad is so easy to make. Slice heirloom tomatoes, basil, and buffalo mozzarella cheese, sprinkle with salt and pepper. Drizzle with a bit of balsamic vinegar. Yum. Of course, if you have a glass of Rutherford Hill Merlot on hand, all the better. Cheers!