Christmas Treats, California Style
Arguably the most intriguing business story of the last month has been taking place back in San Francisco, where a group of US developers is planning the biggest real estate expansion there since the 1906 earthquake. The group--which includes Lennar Corp., Ross Perot and others--isn't getting financing from an American bank or pension fund.

No, the money, some $1.7 billion of it, is coming from the China Development Bank, a policy arm of the Chinese state…CDB [has attached] a special proviso. It's asking that China Railway Construction Corp.--a state-owned infrastructure builder with roots in the People's Liberation Army--take part in the projects, which will develop up to 20,000 new homes along two prime positions in the housing-starved city.

--Wall Street Journal (12.19.12)
Merry Christmas, San Francisco construction workers! I know. Not very festive of me to lead off this post--a mere four days from Christmas--with details that recently emerged from the China-Lennar Corp deal. Ugly. I don't know how else to put it. First came San Francisco's Bay Bridge (which Don and I and our family members regularly travel across) largely Made in China by Chinese workers using Chinese steel, and now, too, a large swath of prime San Francisco real estate development will be constructed using laborers (and materials, no doubt) shipped here from the PRC? If I were a construction worker, I'd be buying poster boards, wooden stakes and wide tip markers. Time to picket, don't you think? Raise public awareness?
Let's see. Where was I? Oh, yes, CAMJ's Twelve Days of Christmas, American Style, Day Eleven; now somewhat deflated by this disappointing news. But onward, fellow Americans. Let's look on the bright side (as my youngest used to say when she was about eight): China believes in America. The real question, which WSJ journalist Dennis K. Berman asks in the column quoted at the top of this post, is why doesn't America believe in itself? No financiers stepped up to the plate. This is worrisome.
I don't have $1.7 billion stashed away to loan to Lennar Corp et al for this mega-development, but I can continue to purchase American-made products this holiday season. One Little Tikes toy at a time, I can make a difference. So let's not get bogged down by big numbers. Keep our eyes on what each of us can do, right?
And now, on to CAMJ's Eleventh of the Twelve Days of Christmas. Today's theme: edible treats, all locally produced. First up: California Pistachios. I found these at a nearby grocery store, nicely packaged in a natural cotton bag: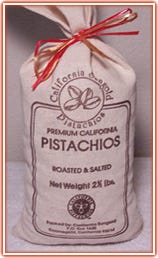 Here's the scoop on the business behind this locally-grown product:
In 1983, my wife and I purchased 20 acres of pistachio trees. We both had other jobs; myself in the dairy business, and my wife as a high school English teacher.

The first crop of pistachios presented a financial dilemma: a large mortgage payment was due that we didn't have money to pay for; and the money for the crop wouldn't come in until after the mortage payment was due. With necessity being the mother of invention, we hand packaged our nuts and went on the road to try and sell them...

We now have our warehouse in the town of Oakhurst CA...where we package, store and ship our products. We have 3 year-round employees, and we hire local seasonal help for the holidays.

Our original pistachio acreage has expanded to 79 acres...We feel fortunate to be doing something we love, and selling products that people really enjoy!
--Rick, Demetra, and Natalie Chamberlain
Or how about a Rachel Dunn 2-3 pound apple covered with caramel, Guittard chocolate and nuts? There was exactly one of these left at a local department store. As I hesitated, another shopper grabbed it! But maybe you can find one left in your neighborhood. This yummy product--praised by Oprah, U.S. presidents, and foreign royalty alike--is produced by Rachel and Mike Dunn and family at their chocolate factory in Concord, CA:
Or how about something simple and sweet with no added sugar? Have you tried California-grown clementines? Sun Pacific's "Cuties" are available from November through April. My grandson loves these, and now I do, too. Pop a few of these into stockings. They're seedless, easy to peel and practically melt in your mouth. Enjoy!
I couldn't end this post without mentioning See's Candies. Headquarted in South San Francisco, See's (now a subsidiary of Warren Buffett's Berkshire Hathaway) employs over 2,000 workers. This stocking-stuffer's been a favorite in our family for years.
Hope these ideas will help make your Christmas gift-buying a bit brighter!