Discover more from China Ate My Jeans
Seeking, Finding, Writing About Products Made in the USA
Farewell, Summer
Friday was the first day of autumn, but summer apparently didn't get the memo. Temps reached into the high 90s here in San Francisco's East Bay (it was 30 degrees cooler in the fog-shrouded city).
To escape the heat, I browsed the produce section in air conditioned bliss at Lunardi's grocery store. Pumpkins had begun to arrive. Orange and plump, ready for Halloween carving or autumnal soups. But summer's bounty still dominated the scene: zucchini, green beans, lettuces, heirloom tomatoes. Berries and plums and peaches and nectarines. Oh my.
In a nod to summer's end, I decided make one of Don / Richie C's favorite summer salads. I bought an organic chicken breast and lots of romaine, red, and butter lettuce. BBQ sauce. Ranch dressing. I already had plenty of basil growing at home, thanks to the starter plants Anna's husband (Hasib, an agricultural scientist) had given gardener-Don back in June. And Don's Mom had recently given us a big bag of tomatoes from her garden.
Thought I'd share the recipe with you all. Oh, I know, there's so much more important news to catch up on. On September 9th, for example, The Wall Street Journal reported that police in central China's Henan province rescued 30 mentally handicapped people who'd been enslaved at brick kilns "in the latest case of slave labor in China, a problem that continues in the country despite government pledges to eradicate it…some of the victims had been enslaved for more than seven years." More from WSJ:
The most recent case underscored the difficulty facing the government in eliminating slave labor in the world's second largest economy…In 2007…authorities said they rescued more than 500 people from illegal brick kilns and coal mines and promised to end the practice.

In a separate case last year, a man in the central province of Sichuan was arrested after police said he set up a fake shelter for the mentally disabled, only then to sell at least 70 people to factories across the country.
Authorities "promised to end the practice"? Promises, promises, China. We here at CAMJ are like a Burt Bacharach song. We're all through with promises promises now. No more stuff from China (but if my laptop battery dies or my coffee maker poops out, what's my alternative?).
And I want to discuss, as promised, Henry R. Nothhaft's Great Again: Revitalizing America's Entrepreneurial Leadership. Such an important book. I nodded and sighed all the way through. And I have interviews and Made in U.S.A. purchases to share. But surely one last nod to summer is called for. So here you go:
Summer's End BBQ Chicken Salad
Fresh organic local boneless skinless chicken breast, grilled to perfection (about 6-8 minutes each side depending on how plump they are), sliced into bite-sized pieces
Enough fresh local lettuces of your choice (I use romaine, red leaf, butter) for 2 big salads
Fresh local white corn (cooked and cut from one cob)
Handful of fresh U.S.A.-grown basil leaves, chopped (OR handful of fresh U.S.A.-grown cilantro leaves, chopped)
2 fresh U.S.A.-grown tomatoes, diced
Half of a U.S.A.-grown red onion, diced
One U.S.A.-grown avocado, diced
Handful of restaurant style Made in U.S.A. tortilla chips (optional but so yummy)
4 TBS Follow Your Heart Low Fat Ranch Dressing mixed with a bit of red vinegar
Toss all ingredients, serve. Drizzle top of salad with your favorite BBQ Sauce (I use Kinder's Mild BBQ Sauce).
Here's what Don / Richie C's salad looked like just before he inhaled it: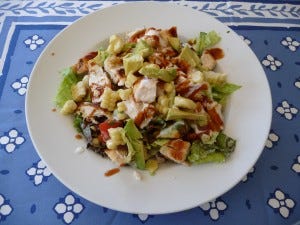 For a refreshing Indian summer drink, try this:
To a tall glass with lots of ice add equal parts of your favorite mineral water (lemon or lime flavored) and Minute Maid Light Lemonade. Add a sprig or two of fresh U.S.A.-grown mint (it grows wild in our yard). If you like more sweetness, add some sugar or honey. Enjoy!
PS: About the blue tablecloth in the picture above...it's from French retailer Pierre Deux. Sad to say the company recently filed for bankruptcy. I stopped into my local Pierre Deux to say adieu, then realized I could actually buy something. 'Twas Don who figured this one out. "Think about it. Their merchandise is now owned by the U.S. government. If you buy something, you're actually buying American. Go ahead and splurge." Merci, Don. I like the way you think. Still, so sorry to see you go, Pierre Deux. We here in America like to see entrepreneurs succeed. Hope you'll pick yourself up, dust yourself off, and start all over again. Bonne chance, ami.