Discover more from China Ate My Jeans
Seeking, Finding, Writing About Products Made in the USA
Oh Hey, Marine Layer? Come Home.
If loyalty is, and always has been, perceived as obsolete, why do we continue to praise it? Because loyalty is essential to the most basic things that make life livable. Without loyalty there can be no love. Without loyalty there can be no family. Without loyalty there can be no friendship. Without loyalty there can be no commitment to community or country. And without those things, there can be no society.
--Eric Felten, Loyalty: The Vexing Virtue (2011)
My recent realization that Marine Layer now imports some of its products (it always starts with some) from a factory in China has me daydreaming about picketing outside the company's flagship store on Chestnut Street. My Felten-inspired protest sign would simply say: I'M VEXED. I doubt anyone would take their eyes off an iPhone long enough to notice. But the cool, moist air wafting up from the San Francisco Bay would do me good.
A few years ago Marine Layer had all the trappings of loyalty to place, to community. The brand's logo depicted a napper lazing on a hammock strung between two pillars of the Golden Gate Bridge. Its motto seemed authentic: Made Here. Made Well. Its understated humor effectively made a point: Made in California. By Adults. And that easygoing tagline nicely encapsulated the brand's surfer-dude ethos: Oh Hey.
And so I bought a few Marine Layer T-shirts, polo shirts and infinity scarves both online and at the Chestnut Street store to give as gifts. Back in 2012, as I mentioned at the time in a blog post, the company touted the fact that "every step of our production process occurs in California. This minimizes our environmental footprint and supports 3 American factories that have been in business for over 25 years." A tag attached to each item I purchased looked like this:
Proudly made in San Francisco, CA. Sure, these items cost significantly more than similar apparel at larger retail stores, but at least I knew my purchases would help support decent-paying, environmentally-regulated Bay Area jobs at every level, from designers and marketers to cutters and sewers.
A couple of weeks ago Marine Layer's summer catalog arrived in the mail. The catalog's cover photo shows a foam-crested aqua wave crashing against a rocky cliff in Oahu, Hawaii. A model wearing a banana leaf print romper strides, arms outstretched, toward the protruding cliff's edge. But as I flipped through the catalog, the all-important Made Here. Made Well. descriptor had gone missing. No country of origin information was given at all. Not even the word "Imported." I called a Marine Layer store, asked where the romper on the cover was made. "In our sister factory in China," the helpful employee said, sounding casual and breezy, as if this sibling--who just happened to live on the other side of the world--had been sewing clothes for the Marine Layer family all along.
"I always thought Marine Layer prided itself on the whole 'Made in California by adults' thing," I said, making air-quotes for no one but me as I paced back and forth in my kitchen. "And the whole 'environment footprint' thing. What happened to that?"
"We pride ourselves on making quality products. We still make our basics here, but we tried making more complex pieces in the U.S. for some time but they didn't meet our quality standards."
Wait. What happened to those "3 American factories that have been in business for over 25 years" Marine Layer used to brag about on its website? The argument that they couldn't sew a decent romper, sweatshirt, blouse, denim skirt or any of the dozens of other products now made in China for Marine Layer at its sister factory didn't fly. Vexing, indeed. Perhaps the Marine Layer logo should be tweaked to better reflect the country of its sister factory.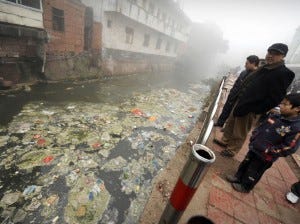 When I checked online, I saw that Marine Layer now has two country-of-origin descriptors: "Made in California, by Adults." "Made Abroad, by Adults." No mention of China, by the way. I wonder why...
Look, I get it. It's all about keeping prices and profit margins high and manufacturing costs low. But what's the true, larger cost to the global environment? To our society as a whole? Those low wages in China (and India and Africa and on and on it goes) push down wages for workers here in the U.S.A. Those sewing jobs, brushed-aside nowadays as unworthy of discussion, are desperately needed by masses of otherwise unskilled Americans who depend on them.
The Los Angeles Times recently told the story of Marina Neza, 66, who earned about $500 a week as a sewing machine operator for American Apparel before being laid off. With "over 32 years in the industry, Neza said she's been fortunate to work for many apparel makers in Los Angeles that paid decent wages. But...she's worried about finding another job to make ends meet...'Apparel manufacturing has been my life,' she said. 'There are many, many companies that have moved out of here. I'm not sure about finding work.'"
Since 2000, we've lost 5 million manufacturing jobs across the country, including tens of thousands of jobs in textile / apparel manufacturing. Between 1990 and 2000, garment manufacturers laid off almost 16,500 San Franciscans. Last year alone, Los Angeles experienced a 33 percent drop in jobs for garment workers. Not everyone is headed for a job in the computer industry or skilled manufacturing. We need jobs for garment workers. We need loyalty to country.
Oh hey, Marine Layer? Please come home.