Discover more from China Ate My Jeans
Seeking, Finding, Writing About Products Made in the USA
Pedaling Toward the "Made in America" Quality Principle
A couple of days ago (before the latest rainstorm arrived) I spotted a red, yellow and blue tricycle on display out in front of a children's store. I'm always on high alert for toys and such that Grandpa Don and I can keep at our place for our year-old grandson to enjoy. This tricycle looked well-made, even from a few yards away. Not some molded lightweight plastic thing, but the real deal. Heavy steel frame, wide wheel base, rubber tires. And--impressive bonus--with a long chrome push bar attached to the frame so a parent, grandparent or caregiver wouldn't have to break his/her back by bending over to push a toddler along. But mainly the sturdiness, the built-to-last appearance of the little three-wheeler reeled me in: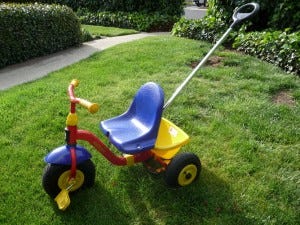 A metal plate attached to the frame said "Kettler" and "Made in Germany." I took a closer look, saw a couple of scratches on the handle bar. The tricycle was (gasp!) used. This was a consignment store. And yet overall the tricycle looked so shiny and new. The sales clerk joined me out front. "Just came in today. I sold another last week but it didn't have the push bar. Isn't it great that this one already has it? Kettler makes really high quality items. Moms love their stuff." Apparently the tricycle can be put in stroller mode (hence the push bar) which keeps the tires and steering wheel in place, or unlocked when the child is ready to navigate on his or her own. Gotta love that. Minutes later the mighty little tricycle was safely tucked into the back of my car.
Driving home, I thought about my son Matt's first two-wheeler: a blue Schwinn. I'd found it at a bicycle shop a few weeks before Christmas. Matt was about four; I wanted something with training wheels. "What would you get for your own child?" I'd asked the store owner. He had rows and rows of nifty expensive new bikes to sell. He scratched his jaw. "If it was my kid? Come here." He led me to the repair section in the back of the shop. "This here's what you want. It's a Schwinn. I know it's used, but the thing's heavy as all get out so it's stable. Easy to ride. I can put some good training wheels on it for you, clean it up and you'll be set."
Matt loved that used Schwinn bike, and within weeks didn't need the training wheels anymore. A couple of years later we passed it down to his little sister Stephanie, and then a few years later to Carolyn and then eventually to our youngest, Michelle.
What ever happened to Schwinn? I stopped by a local bicycle shop to find out. The 30-something guy who worked there chuckled at the mention of the name. "Schwinn? Wow, they make massive amounts of crappy merchandise. It's not really Schwinn anymore."
According to Wikipedia, in 1895 Schwinn was founded in Chicago by German-born mechanical engineer Ignaz Schwinn. It became the dominant manufacturer of American bicycles through most of the 20th century, with 30 factories turning out thousands of bicycles a day. But from the 1980s on, Schwinn struggled with production problems caused by inflation and competition from overseas (although Schwinn, too, eventually moved its production to Asia). Today Schwinn is a sub-brand of Pacific Cycle, owned by the multi-national conglomerate, Dorel Industries. Dorel is a Canadian company based in Montreal, Quebec.
And what about Kettler, the German company that made my grandbaby's new / old German tricycle? Here's a statement I found online:
Heinz Kettler has always remained true to the "Made in Germany" quality principle and it is still the central pillar of the company's management philosophy. This means that even after 50 years of trading all over the world, most of the factories, and particularly the most important ones, are still in Germany.
Whatever happened to the "Made in America" quality principle? Does it exist anymore? Does it matter? Yes, to me and countless other Americans, it does. To Adore La Vie and hundreds of other businesses that manufacture in the United States it does. To the Alliance for American Manufacturing it does. They've decided to take the fight for American manufacturing directly to the people. Good for them. More on that to come.
In the meantime, check out S & M Bikes for the super cool BMX set. All Made in the USA. Or want something a bit more traditional? Try Bowery Lane Bikes. Pricey, yes, but these commuter bicycles are all made with care in Brooklyn, NY. Think we don't make bikes in America anymore? Guess again.