Discover more from China Ate My Jeans
Seeking, Finding, Writing About Products Made in the USA
Six Degrees of Reese Witherspoon
"There's a heart and soul to things. Otherwise, what's the point? My heart and soul is in how I feel about the South. It's what inspires me. It's what makes me want to go back home."—Reese Witherspoon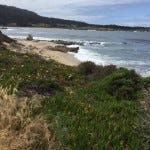 Lunching at Carmel's La Bicyclette a couple of weeks ago, Don and I sat close enough to Reese Witherspoon to reach over and steal a couple of her yummy-looking pommes frites. Not that we did. Don, his back to her, didn't even realize she was there. I didn't tell him for fear he'd raise his voice over the crowded room. What? Who's here? Reese who?
I like to play it cool around celebrity-types, as if I'm above caring. But I'm not cool. I'm easily embarrassed and way too shy to assert myself in these situations. And so as the Legally Blonde star--who won an Oscar in 2005 for her performance in Walk the Line and has an estimated $80 million net worth--and friend Heather Rosenfield talked, ate and laughed, I tried to not look. I wanted to snap a picture and text it to family and friends, but didn't have the nerve. Instead, here are a couple of pics Reese herself posted on Snapchat (thanks to my sister / CAMJ media-consultant, Joni Accomazzo, for passing them along):
As this all played out, amid the clatter of plates, piped-in bistro music and chatter of other diners, I thought about my mom. She wouldn't have hesitated saying hi to Reese. She would've told her she looked even prettier in person than on film. She would've said I LOVE those blue and white pants. They're so different. Where'd you find them? Then she and Reese and Heather would've hung out, had a couple glasses of wine, exchanged contact info, taken a selfie together and become new best friends.
Mom (you can call her Lucy) passed away in 2013. Today's her birthday. She was many things: devout Catholic; the love of Dad's life; listener-in-chief; dispenser of advice and encouragement to each of her nine kids; also, fabulous Sunday dinner cook, avid reader, follower of politics, Hollywood, pop culture and fashion. Like Jackie O, Mom had natural beauty and an innate sense of style. She covered fashion for her college newspaper. After she and Dad got married, in between having babies and cooking and cleaning and praying rosaries, she'd read Women's Wear Daily and Vogue at night propped up in bed, pen in hand, jotting notes in the margins.
Which brings me back to Mom's BFF, fashionista Reese. No slouch either, in the last five years alone she's starred in 10 feature films, narrated Harper Lee's Go Set a Watchman, created a film production company called Pacific Standard, become a Twitter and Instagram-based Oprah-worthy book club guru, and launched her own Southern-inspired clothing and lifestyle brand called Draper James. Forget Kevin Bacon. Reese Witherspoon is everywhere.
As she got up to leave, Reese tapped Don on the shoulder. "Excuse me, I'm sorry to bother you but my shopping bag's right there by your table...would you mind...?" Don pulled the bag off a nearby shelf and handed it to her. "Thanks so much." He nodded and smiled, not really looking at her. After she and Heather had left, I leaned in and spilled the beans. Don couldn't believe I hadn't told him. "Really? That was Reese Witherspoon?" he asked. Then it hit me. Did he even know who she was? "Yeah, sure. She's the one in...what was it...wait, don't tell me..." We paid the bill and headed out the door. "I know! Pretty in Pink, right?"
I mention Reese Witherspoon in this blog post for good reason. Her company, the aforementioned Draper James (named for her maternal grandparents, Dorothea Draper and William James Witherspoon), is committed to encouraging manufacturing in the U.S.A. According to Women's Wear Daily / WWD: "Seventy percent of Draper James is made in the U.S., and the aim is to produce everything domestically and the bulk of that in the South..." If I'd known any of this when I was seated near Reese at lunch, I would've pulled myself together, reached out and thanked her for what she's trying to do in this country.
If you peruse the company's website, watch Reese's behind-the-scenes look at the Blue Ridge, Georgia, factory where Draper James's denim is made. Oh, and those cute blue and white pants Reese wore to lunch? Draper James, of course.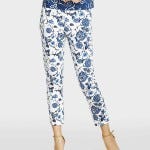 They're pricey ($165) but they are indeed made in the U.S.A. Sold online and at Draper James's brick-and-mortar store in Nashville, Tennessee. Check 'em out, y'all. Sorry. Nothing worse than a Cali-born valley girl trying to sound Southern. Yup, uncool. Like, totally.