Discover more from China Ate My Jeans
Seeking, Finding, Writing About Products Made in the USA
Top 10 Reasons to Buy USA-Made Gifts for Dad
In researching USA-made gifts for Father's Day, a couple of thoughts kept nagging at me: Why should anyone care where a product's been made? Is USA-made even relevant in our increasingly globalized, border-free world? Why not shut up and stop irritating everyone, from a blameless Marine Layer employee (story to come in a future post) to my own family and friends? Who do I think I am? I'm no economist. Nag, nag, nag. Then I remembered Todd Lipscomb's eye-opening book, Re-Made in the USA (2011).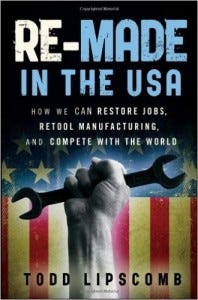 A former tech industry executive for Western Digital Corporation, Lipscomb had a front row seat "watching Asian countries take American manufacturing jobs," the publisher's note explains. This 15-year experience "convinced him to move back to the United States and start MadeInUSAForever.com, which sells only high quality American-made goods."
When I began CAMJ in 2011, the information in Lipscomb's well-researched book kept me motivated. His accompanying website back then--a kind of hokey-looking virtual general store--offered a handful of products for sale. On days when I wanted to give up, drive to Target and fill a red plastic cart with cheap China-made goodies, I'd instead go online and see if Todd had any new products posted. Although still uncool in appearance--but maybe that's part of its charm--the online store has grown exponentially. A red and blue banner now shouts: "Over 5500 Products! All made in the USA!" Also featured is the perfect antidote for those (myself included) who wonder why-oh-why manufacturing continues to matter in this country. Drum roll please. I give you Todd Lipscomb's "Top Ten Reasons to Buy USA Made Products":
10) Foreign labor standards allow unsafe worker conditions in many countries. When you buy American you support not only American manufacturers but also American workers, safe working conditions, and child labor laws.
9) Jobs shipped abroad almost never return. When you buy goods made in the USA, you help keep the American economy growing.
8) US manufacturing processes are much cleaner for the environment than many other countries; many brands sold here are produced in countries using dangerous, heavily polluting processes. When you purchase American-made product, you know that you're helping to keep the world a little cleaner for your children.
7) Many countries have no minimum wage restrictions, or the minimum wage is outrageously low. When you choose products made in the USA, you contribute to the payment of an honest day's wages for an honest day's work.
6) The growing lack of USA ability to manufacture many products is strategically unsound. When you seek out American-made goods, you foster American independence.
5) The huge US trade deficit leads to massive, unsustainable borrowing from other countries. Debt isn't good for you and it isn't good for America.
4) Foreign product safety standards are low. For example, poisonous levels of lead are in tens of millions of toys shipped to the USA. When you buy toys and other goods made in the USA, you can be confident that American consumer protection laws and safety standards are in place to protect your family.
3) Lack of minimum wage, worker safety, or environmental pollution controls in many countries undermines the concept of "fair and free trade". No Western nation can ultimately compete on price with a country willing to massively exploit and pollute its own people. When you buy only American-made products, you insist on a higher standard.
2) Factories and money are shifting to countries not friendly to the USA or democracy. When you avoid imported goods in favor of American-made items, you help ensure that the United States doesn't find its access to vital goods impacted by political conflict.
1) As the US manufacturing ability fades, future generations of US citizens will be unable to find relevant jobs. Buy American and help keep your friends and neighbors-and even yourself-earning a living wage.
By the way, as if to underscore Lipscomb's final point, the Labor Department recently released its latest jobs report: in the merry month of May, the U.S. created an underwhelming 38,000 jobs. For the health of our economy (and to keep new college grads employed and independent instead of living in their old rooms at home), we should've created 162,000 jobs. "There's one word for it, which is just shocking," said Dan North, chief economist at Euler Hermes North America. "Unfortunately it does look like a trend. It's not great news." NOOOOO....
With the above information in mind, here are a few USA-made gift ideas for Father's Day, all under $50...until the end where I veer off into another buying dimension...
WALLET: Allett, Inc's classic leather RFID (Radio Frequency Identification) security wallet ($40.96). Made in San Diego, CA. Lined with a thin alloy to protect against credit card and identity theft. Online at MadeinUSAForever.com.

GYM / WORKOUT CLOTHES: Check out WSI Sportswear. Using California-made fabric, products are designed, cut and sewn at the company's factory in Eagan, Wisconsin. "This heather grey Microtech loose fit short sleeve shirt is a perfect shirt for high performance athletes." ($25) Pair it with Microtech gym shorts, show below. ($19.50)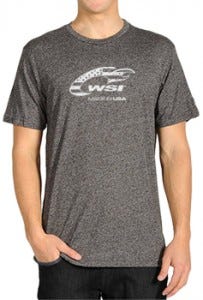 T-SHIRTS: For dads who aren't shy about making a statement...All American Clothing (online only) has thought-provoking T-shirts. ($17.99 ea) And yes, I'm ordering both of these for Don. He's planning to wear the bottom one to our town's Fourth of July parade. Yup, my hero.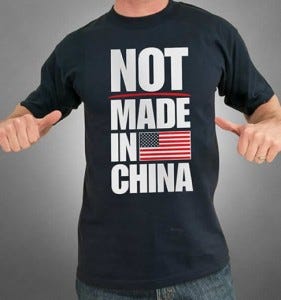 Now, if you'd like to go over $50--say your startup went public; you cashed in your stock options; you can't wait to toss money into the economy--these are darn nice:
WATCH: Shinola "The Runwell" leather strap watch; made in Detroit of imported materials. ($550) I know. For that price, it'd better run well...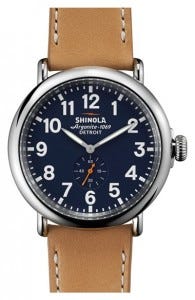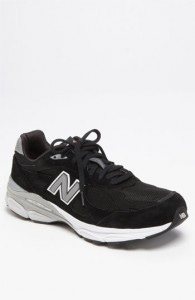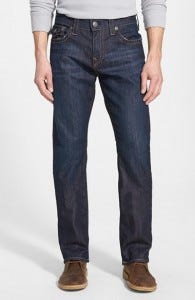 With apologies to swanky Brooks Brothers, I can't resist comparison-shopping on behalf of loyal CAMJ readers. These All American Clothing jeans look just as good as the high-priced competitor's. Price? $25. You're welcome.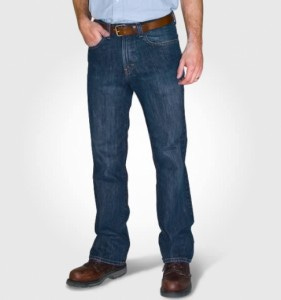 Shopping tip: on any retailer's website, simply enter "Made in USA" into search box (also refine your search by adding "Men's" or whatever category you're seeking). But always read the complete product description. If it doesn't actually state "Made in USA" it's likely imported.